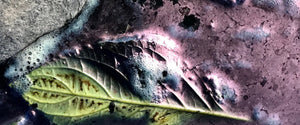 Learn about batik and indigo dyes, deepen an interest in Indonesia's natural dye arts, develop your own creative projects
Our HALF-DAY BATIK CLASS offers hands-on experience of batik making and indigo dyeing as well as a unique insight into the botany, dye processes and practice of Indonesia's textile traditions. You will learn about the traditional dye plants used across Indonesia. You will be taught to use the traditional batik tools of canting (drawing pen) and cap (stamps) using wax to create resist designs on cotton. And you will apply natural indigo to create your patterns and learn how the indigo dye is made from the plants in the garden.

Our 2-DAY STUDIO INTRODUCTION explores the making, meaning and application of Indonesia's traditional plant-sourced dyes of indigo blue, Ceriops and Woodfordia brown, jackwood yellow, and mud black and grey through the practices of batik, yarn and swatch dyeing. For those with a practice or those curious about the art, this workshop is based on field research and studio practice since 1998. The studio introduction also teaches the work methods of our studio and may be followed by day use of the studio for personal creative projects.
The 3-DAY, 4-DAY and 5-DAY STUDIO INTRODUCTION & CREATIVE PROJECT workshops combine the 2-day studio introduction with 1-3 days of studio day use for a personal creative project.

STUDIO DAY USE offers access to the dye studio to practice the use of natural indigo blue, Ceriops and Woodfordia brown, jackwood yellow, and mud black and grey. The studio practices batik, shibori, and tannin painting with mud dyeing, but practitioners may practice their own surface design techniques, too. Completion of the 2-Day Studio Introduction or any longer workshop offered by the studio is a pre-requisite for booking day use.